INDUSTRY: ARTS & ENTERTAINMENT
The challenge for Marketing Now is creating a brand new website for Vogue Entertainment was to design an extensive website that was easy to navigate and find information and services quickly. (The legacy website had over 900 web pages.)
Marketing Now designed a stylish and appealing artist profile page layout which would be the most used layout to present the many celebrities, artists, bands and entertainers that the business supplies. 
Secure forms were added to receive incoming messages and inquires from clients as well as email marketing integration.
An blog layout was designed and included a sidebar with useful components including category navigation, Facebook LIKE box, custom links and a newsletter subscription form.  
Also, Marketing Now devoted a substantial time into redirecting the old website pages to their corresponding new page of the new site to minimize 404 'Page Not Found' errors which is crucial for SEO and search engine rankings on Google. Extensive keyword research and on page SEO principles were also deployed.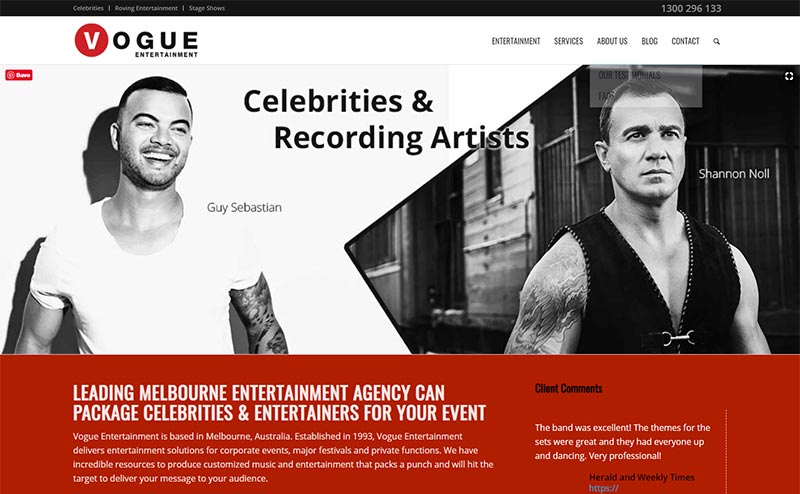 Brief
A CMS website to showcase 100's of talent and artists
Features
Custom WordPress CMS, Email marketing, forms, custom post design and extensive category management
Things We completed
1.) Customised WordPress CMS with custom designed talent profiles layout
2.) Custom designed Blog, nav mega menu and contact forms
3.) Integrated Email sign ups with list management
4.) Graphic Design